Short background:
Bought my 2015 LEAF in December 2014. Love it. As the guy who turns the wrenches on our family fleet, I love that in 4.5 years, I've had to change the wiper blades once, plug a flat tire, and add washer fluid several times.
Over the past couple years though, the range had dropped quite significantly and in particular, the range guess when the battery was full was good, but the car could struggle to make 45 miles before depleting the battery. (My typical commute is ~16 miles round trip.) Something seemed clearly off, but it wasn't until I got the first "Motor Power Limited" turtle mode error after charging the car overnight that I knew something was definitely amiss. That was 2018-11-12.
I used LEAF Spy Pro to read the codes, which were P33ED (HV BATTERY Bat Parallel Diag) and P3180 (EV/HEV HV Battery System). I had done some research and it seemed like P33ED was not "enough" of a code to get Nissan to warranty repair the battery, so after two days of turtle mode driving, I cleared the codes and figured that if the issue recurred immediately, I'd maybe have a case; otherwise, I could at least use the car.
As I did more research and poking with LEAFSpyPro, it was clear that cell #30 was defective (screenshot below), but it seemed like I didn't meet the service manual criteria for a fix.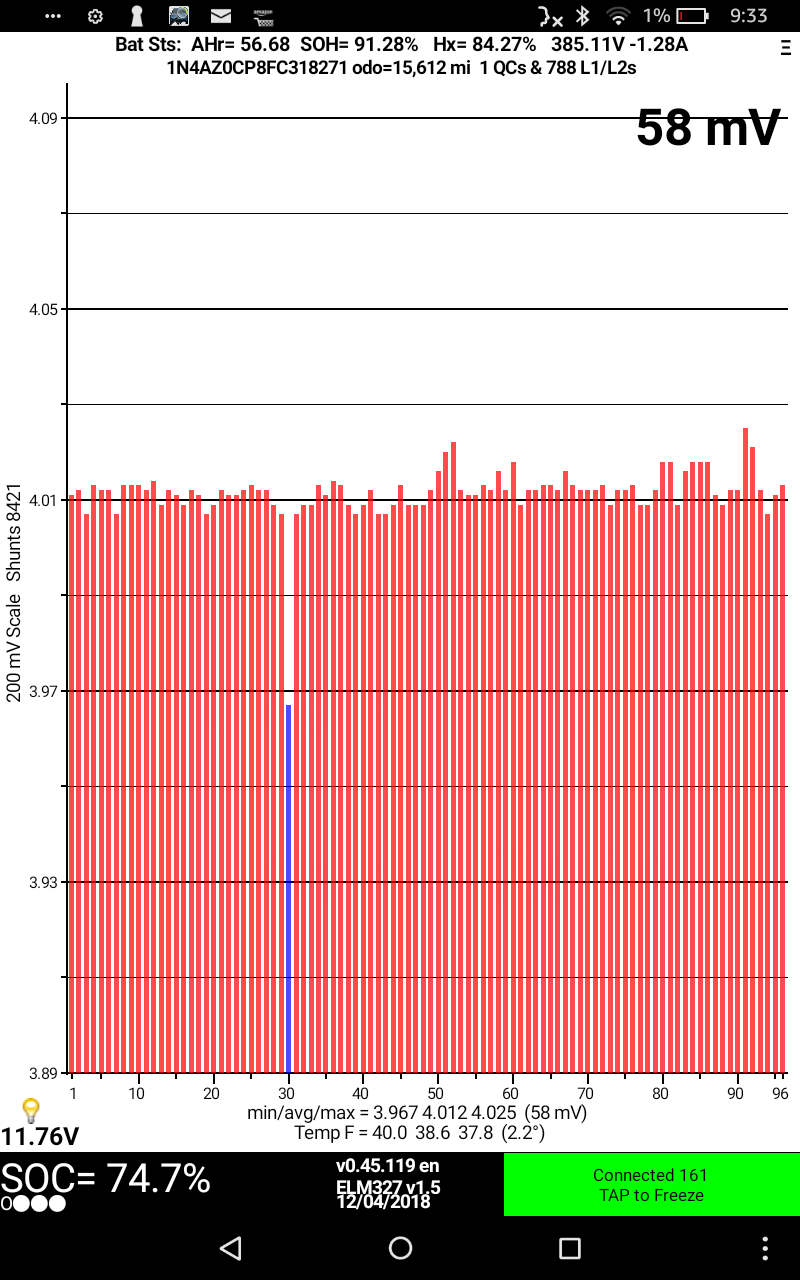 It recurred on 2019-01-09 and I again reset it after reading up on the CVLI test process and reports that seemed to indicate my car would get no warranty repairs under its current condition.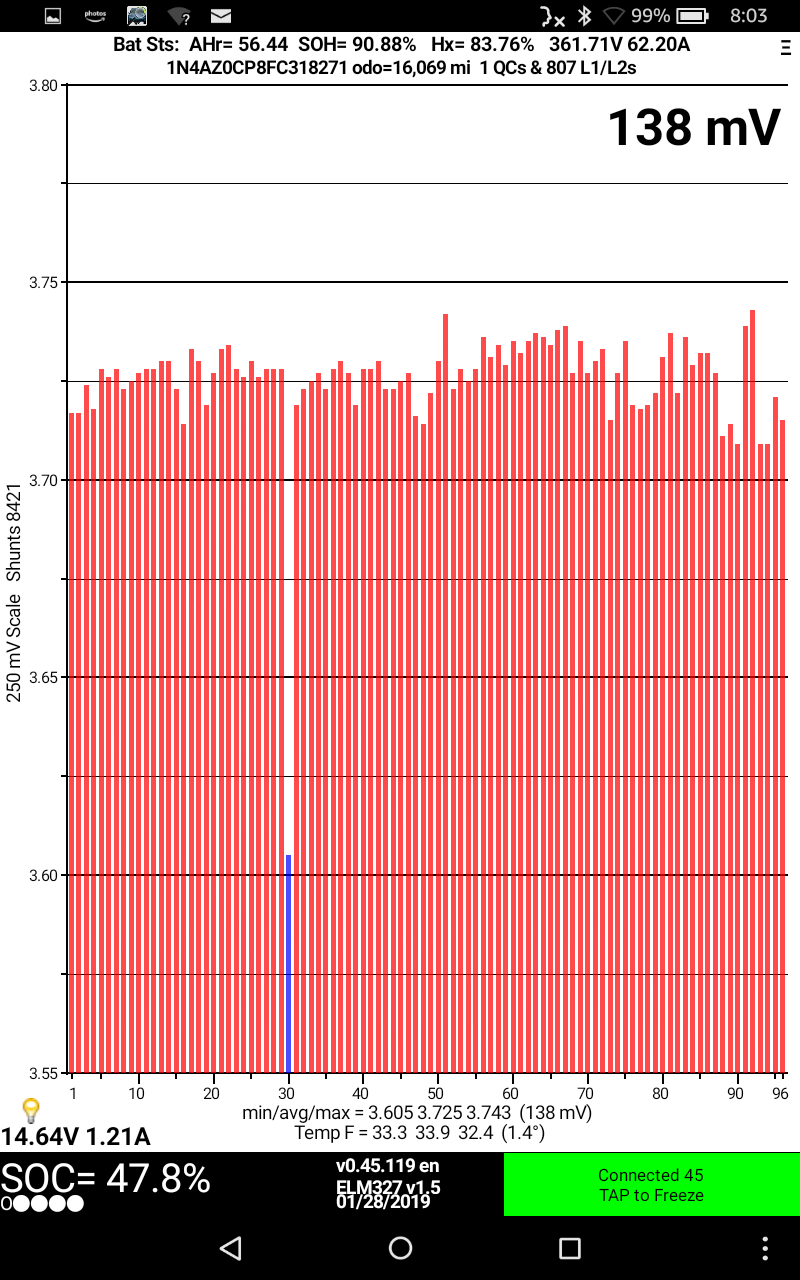 It recurred again on 2019-08-21 and I decided that it was worth a shot to take the car into Nissan anyway, even though the lore on mynissanleaf suggested that I wasn't going to be in for warranty repairs. I had several open recalls on the car, so I scheduled the car in for those recalls and for diagnostics on "presumed warranty issue with traction battery cell #30".
Screenshots from the drive into the dealership for service: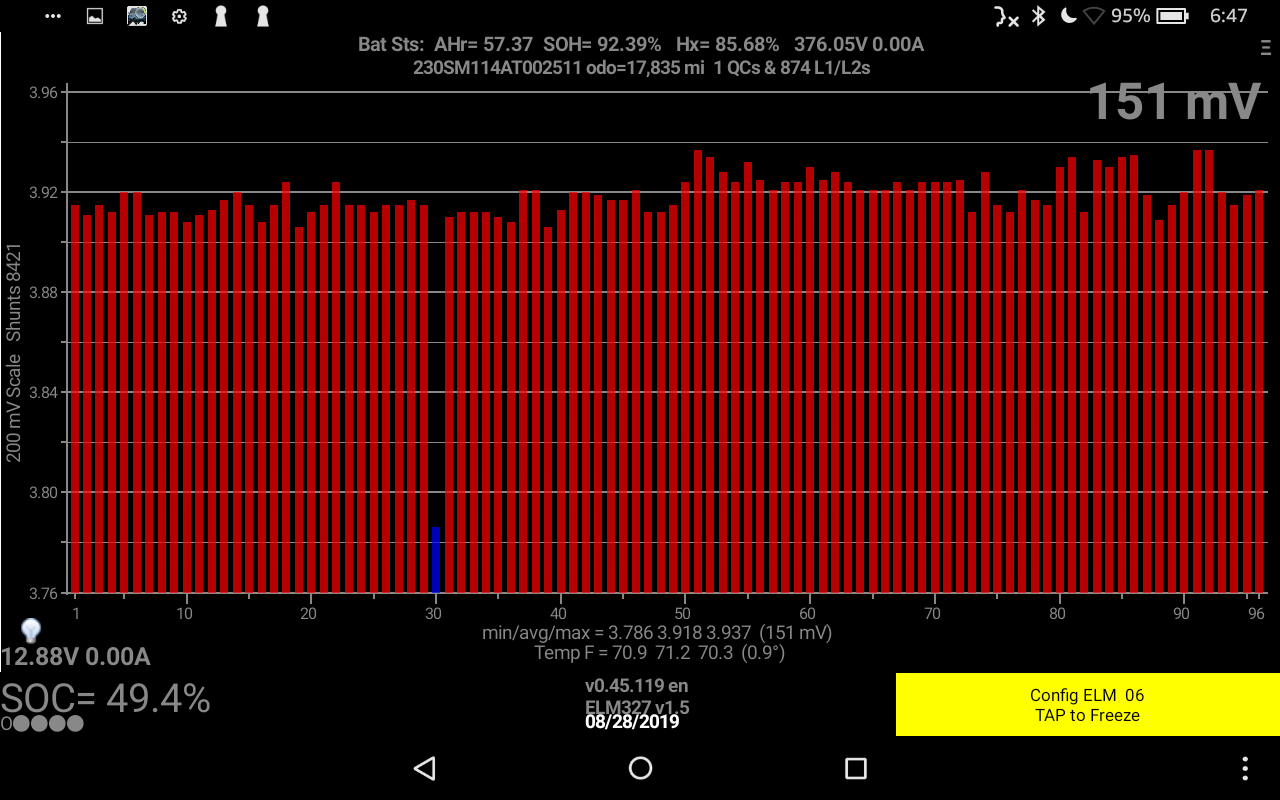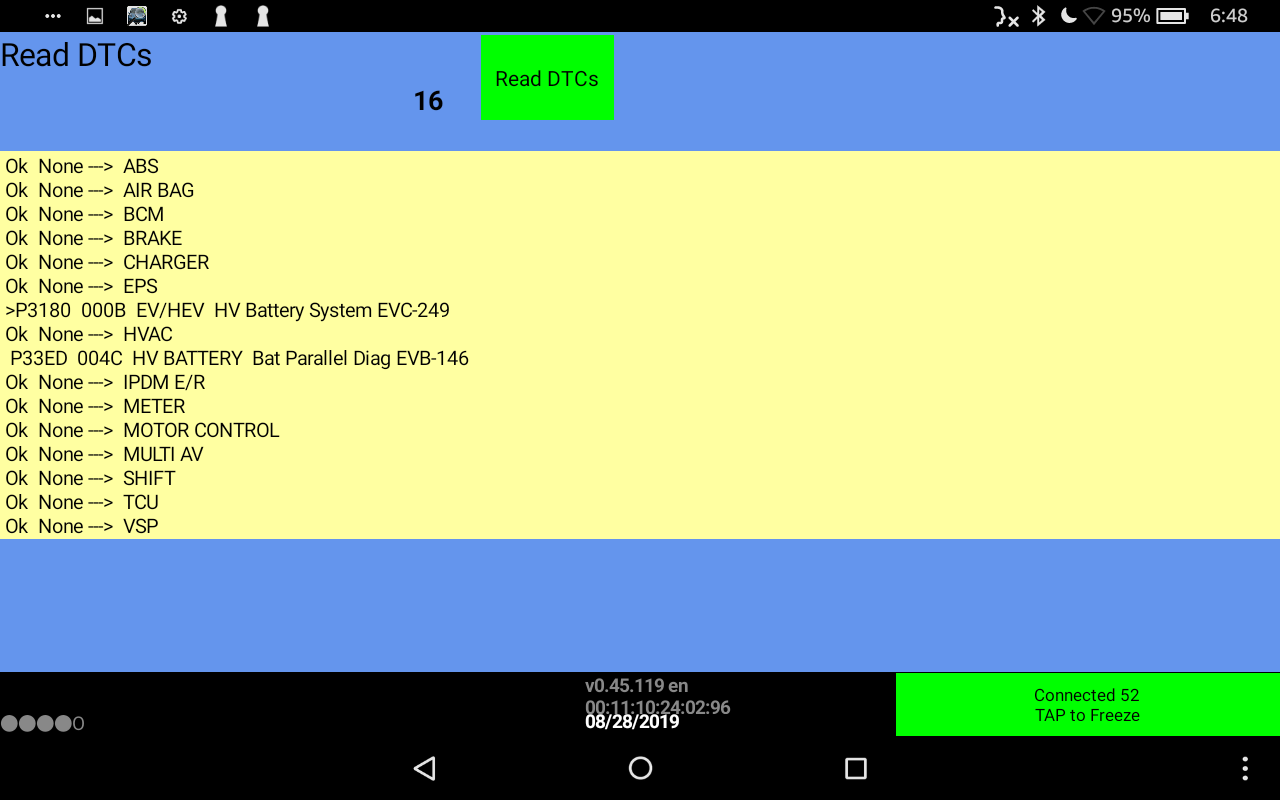 My nearby dealer had closed, so I took it to a new-to-me dealership, Kelly Nissan of Woburn.
Service advisor there had read over the information I'd submitted on the web form, seemed to understand things (with a little flavor of "this customer might know more about the internals of his car than I do"), and promised they'd look into things.
The next day, we connected and he said it would be "a while" before they could complete the service. I indicated that I needed to take the car, reset the codes and drive it for the time when the parts were coming in, or that I'd need a loaner car. Service advisor arranged for a loaner car (a Versa) and I picked that up that afternoon. At that point, he said "it will be several weeks; we have to order in some parts and then there are only so many EV-trained techs available and we have to schedule them to come in and do the repair; you can keep the loaner car in the meantime. I just want to set the right expectations so you're not calling every couple days." (This seemed fair to me; as I write it, it might come of as brusk or abrupt, but I didn't experience it that way in person.)
Almost three weeks passed and I got a notice that the car was done. At this point, no mention of money had been made yet, though I'd indicated at drop-off, in person, and again over email that I expected this would be a warranty repair.
I made arrangements to pick up the car the next afternoon, fueled the loaner car prior to dropoff, and picked up the car. I'll attach the scans of the work order later when I'm able to scan them, but there was no charge for any of the work (nor for the loaner car). Nissan picked all of that up.
As you can see from the first scan when I got home, the newly replaced module has a much
higher
voltage than the rest of the pack: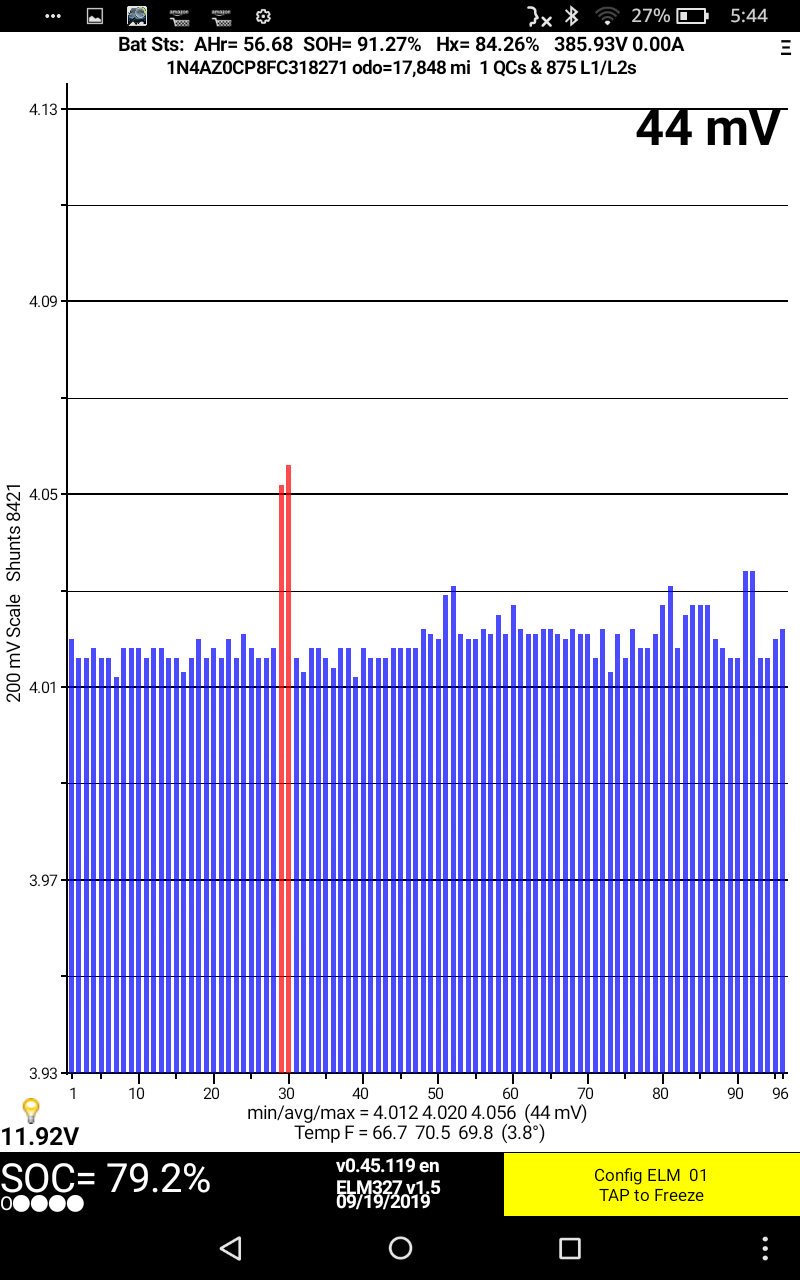 You can also see the red coloration, indicating that the shunt resistors are turned on to slowly drain those cells to help match them to the rest of the pack.
The following morning before setting out for work: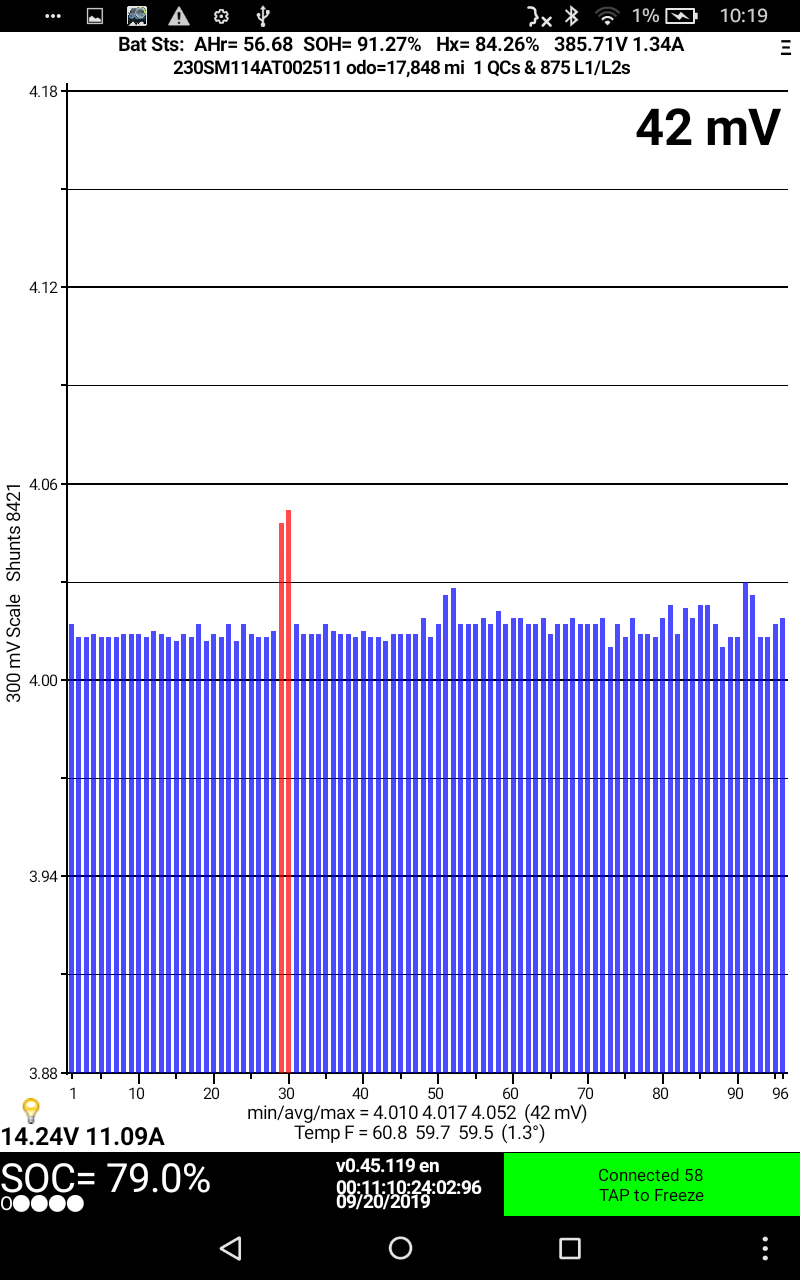 And arriving home from work (the new cells had fairly well balanced themselves by this point):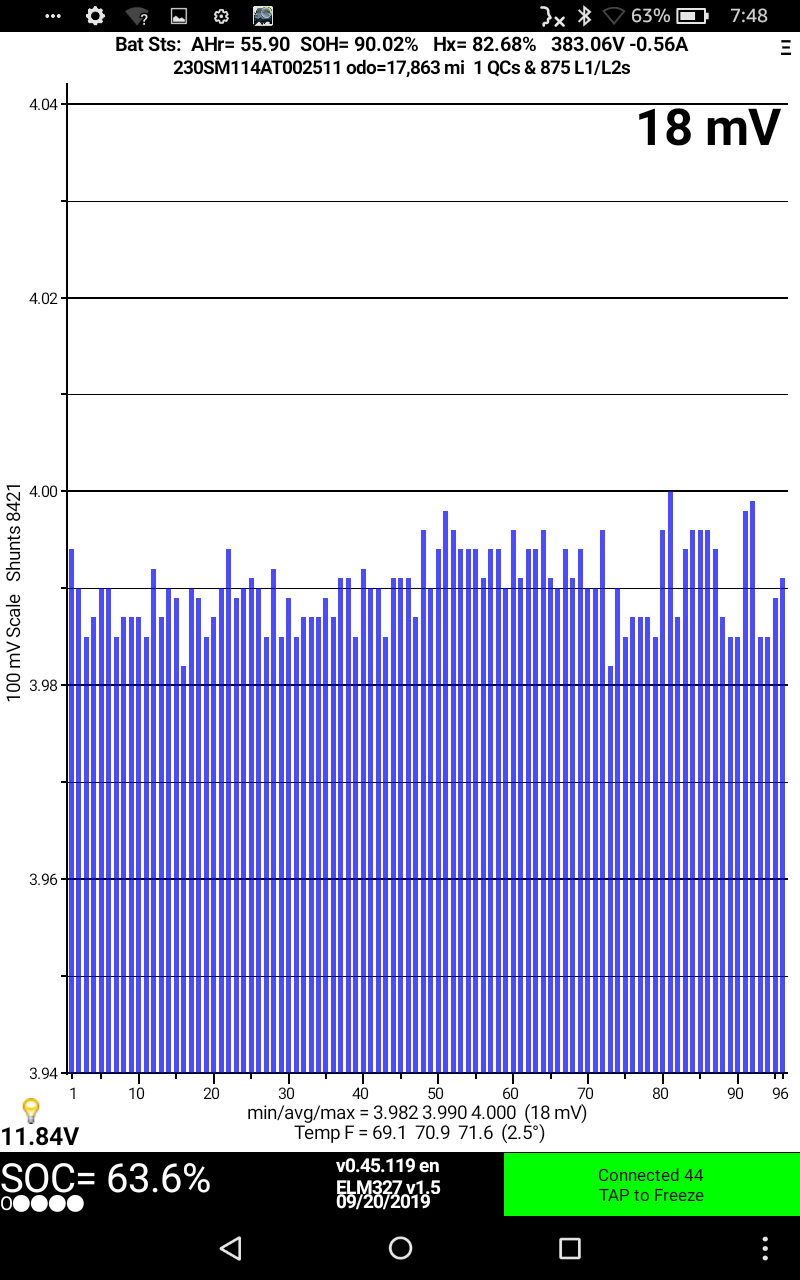 This morning before setting out for work: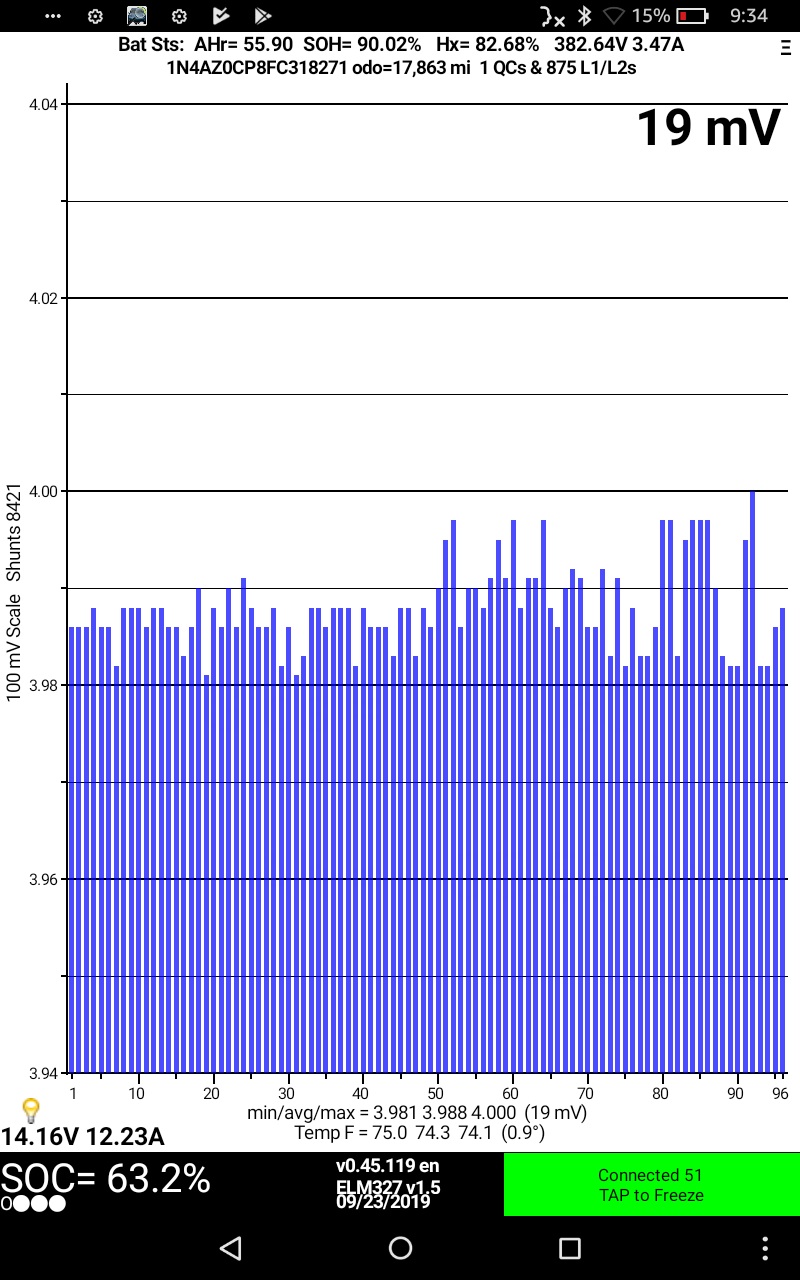 This afternoon arriving home from work: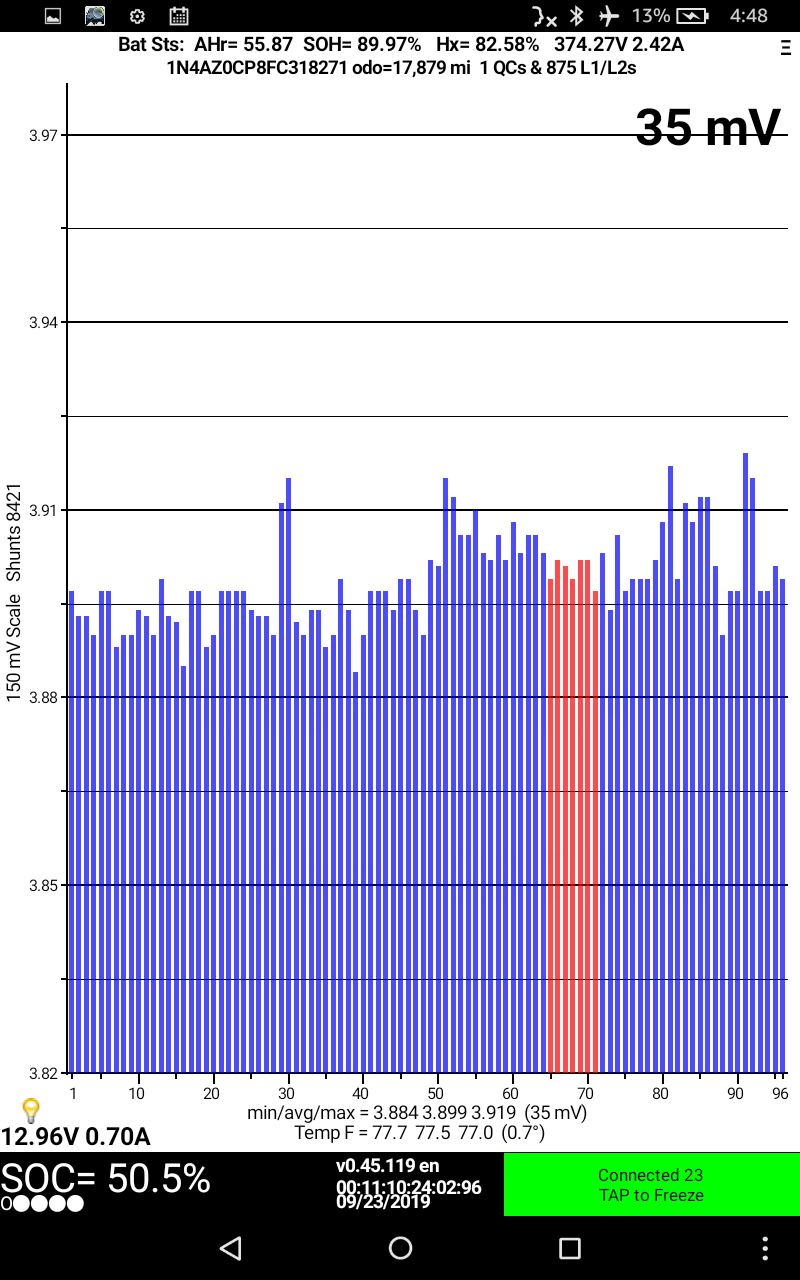 Previously, the car would struggle to make 45 miles on a charge. Right now, I've driven the car 43.6 miles since leaving the dealership and the guess-o-meter still shows 41 miles to "empty" and a 45% charge level (and this on a battery that stopped charging slightly early [when cells 29 & 30 became fully charged before the other cells], so I expect slightly better range now that they're all balanced again).
I'm a happy camper!
Nissan took care of the issue without me having to exert any kind of pressure or debate, which I think is entirely appropriate, but I'd been expecting a significant PITA and there was none.