Great video, introducing LVNP in 4 minutes...
https://www.youtube.com/watch?v=eUFeXGpnXO8
" onclick="window.open(this.href);return false;
Of course, much better to see it for yourself, and no better way, IMO than in a LEAF.
You not only can enjoy the Park, but after experiencing 80% to 90% recovery of ascent energy over the (~8,000 ft net ascent) trip, you will never fear hills again.
The Peak road is only open late Summer through early Fall, but since quite a few LEAFs now seem to be making the ~I-5 trip through North California, I encourage you to get off the corridor.
I made three trips to the Peak trailhead last Summer (recharging at ~mile 47, the second red line on the profile) the last two times returning Via highway 36: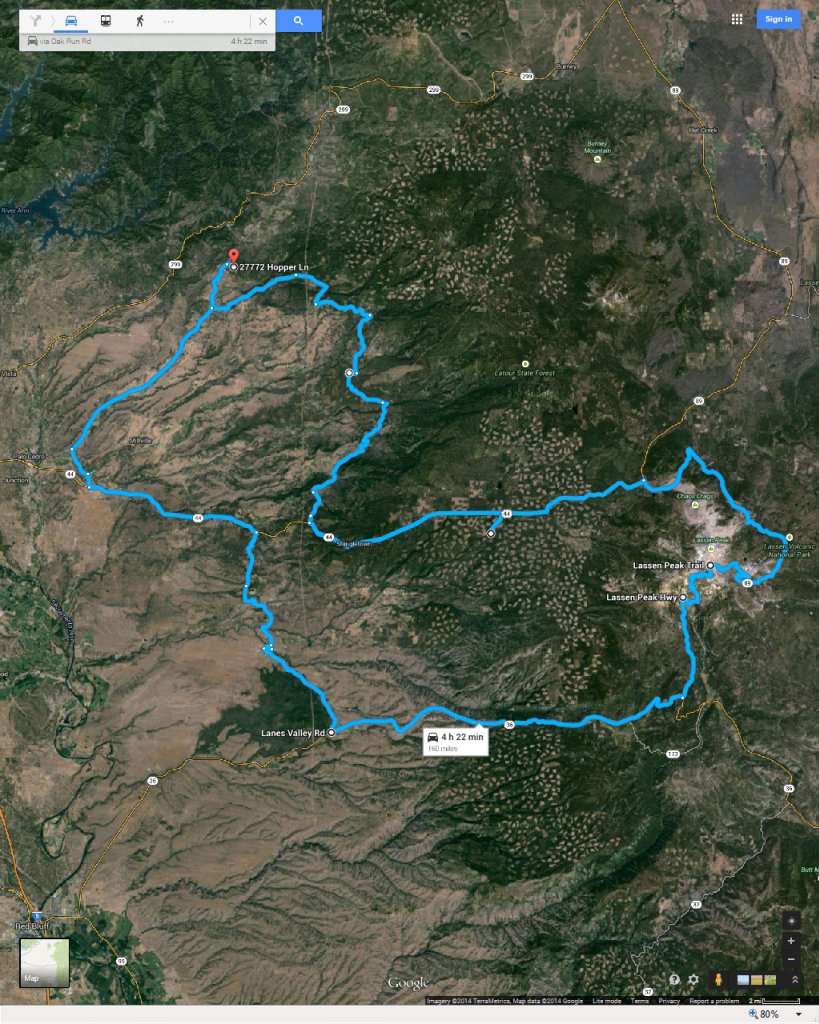 HWY 36 is actually easier to drive efficiently (that is-slowly) than HWY 44, as it has no 65 mph zones and more passing opportunities.
To do this trip Redding-to-Lassen Peak-to-Red Bluff with only one charge stop (near Shingletown, and near 4,000 ft. elevation) you will probably have to drive below prevailing speed on some of the higher-speed stretches of highway.
To give you an idea, I drove my route the first time in 5 H 47 m total drive time (as compared to the
Google 4 h 22 m (add another ~ 5 minutes to that for the ~0.7 m of my driveway off the map) estimate.
Not knowing some of the route, I drove much too slowly, and got the LBW less than a mile from home.
The second trip, cooler temperatures, on nearly new tires (both reducing efficiency) I made it in 5 H 32 m, arriving at my door well before the VLBW, as per plan.
112+ miles on a single charge is much easier, when you recharge
above
your destination, and have ~2,000 ft. worth of (potential) energy backing up your battery!
Redding to Redding, or Redding, to Red Bluff, are both shorter and require ~1,500 ft. less descent and ascent and than the trips I make, so you shouldn't have trouble driving either on a warm day.
And most days the road is open over the Peak,
it is warm
, 90 F to 110 F down in Redding and Red Bluff.
The
Upstate California Plug-in Electric Vehicle Readiness Plan
shows a DC in Shingletown on their map:
http://www.schatzlab.org/projects/polic ... scenario=2
" onclick="window.open(this.href);return false;
http://www.mynissanleaf.com/viewtopic.p ... 9&start=20
" onclick="window.open(this.href);return false;
Which of course would save hours of LEAF recharge time on any Lassen trip .
But I wouldn't wait for it...