This is MY answer to the thread "What became of the "LEAF TO HOME" Power the house Kit?"
Here is my Leaf-to-Home setup.(NOT)
I know it's not
really
a Leaf-to-Home.
The Leaf to home uses the DCQC port in reverse, cost Big Big yen, and will put out higher current that my setup.
Mine however, WILL put out 8 Amps of continuous, true sine wave power, with surge loads up to 15 amps, quietly and efficiently for about 24 hours (depending on load).
It even has a USB output to charge my Cell Phone
It will keep my essential electrical needs operating in a power outage, and It also didn't cost an arm
¥
and a leg
¥
.
This setup is NOT my original thought.
Phil (Ingineer) proved long time back that "The Leaf's DC-DC converter can supply up to about 1.7kW or 135a", which is enough current to easily power this configuration, and "NullPointer" proved that it would actually work using this equipment.
http://goo.gl/p5SY1
" onclick="window.open(this.href);return false;
(My choice of inverter was a coincidence, but the circuit breaker was outright intellectual theft.)
If this were a different vehicle, or a larger vehicle, I would have buried it in the car somewhere, permanently mounted, remotely controlled, with only a GFCI outlet showing that looked like it came that way from the Factory. But in this vehicle, this was my solution.
I happened to have this inverter in the back of the Leaf when I went to my little guy's Cub Scout picnic a while back. They had rented a small pavilion thing in a park, and were setup to do spin-art and a couple other projects that required electricity. They had rented a generator, and had placed it under that pavilion and it was rattling away, making conversation difficult, and stinking up the place. Then it died.... and the silence was nice..... except is was rainy, and the kids couldn't do their projects.
Well, I pulled the Leaf up, borrowed a set of jumper cables, got one of my "paranoia" 100' 12gauge extension cords out of the back, and in 5 minutes we were back up and running without the noise and fumes. Plus the kids all thought it was very cool.
Leafy was a star!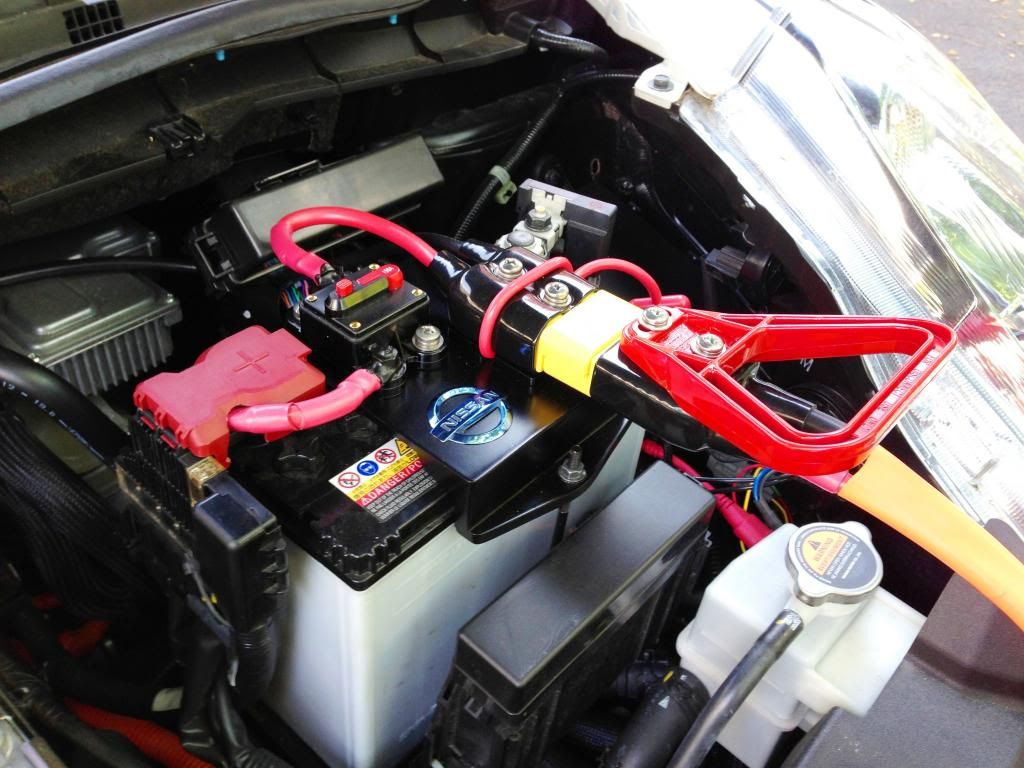 Having proven its worth, I wanted a more "permanent" and a "looks like I meant it" solution, and this is what I came up with.
(I also have a 12VDC "Extension Cord made from a set of very nice 15' 2 gauge truck jumper cables fitted with the same Anderson connectors, so I can move the inverter to a more secure or weather resistant location, including the interior of the car in a pinch.)
I could have chosen a larger inverter, but it's the same compromise you make when picking a generator. More power = Less time.
(Yes, I know the responses are coming.... this is
stoopid
..... Generators are much better. Yeah Yeah...
I have a HUGE built-in Onan Diesel generator at home, with LOTS of diesel Fuel (that gets pumped into my TDI cars also) to handle the upcoming Zombie Apocalypse.
It doesn't make this setup any less interesting)
The first question those who have seen this ask is "what will it power and for how long?" Being an engineer, I sat down and started figuring. I made power consumption estimations, run-interval guesses, startup load approximations, and internal inverter loss guestimates. My son came along, and asked why didn't I just plug the fridge in and see how long it would work? Silly Child.... So..... I did.
Just for reference, I have a KitchenAid KFIS29PBMS 28.6 cu. ft. multi-door fridge, newish, energy star compliant, so it is fairly typical for 5+/- year old large fridges. I also have installed about 90% LED lighting in the house, and since I designed the electrical system, all my lighting circuits are not only separated and isolated from everything else, they are in a separate panel. The average LED bulb draws between 7 and 13 watts, so I could throw in an LED lighting load by tripping the main for the panel, and back feeding one side, and It wouldn't make THAT big a difference. For giggles, I plugged 2 of them into the cord as well.
Here is what I found:
I wish I had better concise data for you.
The only way I am sure it's working correctly is when the car is ON (ON ON, not READY or ACC)
I Started with 274GID
I opened the fridge door for 5 minutes, and watched to make sure the consumption registered the startup.
Just to mess with it, I went shopping, put away all the cold and frozen, including an Oven roaster chicken that was too hot to touch.
This fridge really ramps up when I do this, and it sounds like a turbine engine for a while until it gets the temperature rise under control.
I let it run 6 hours, operating as usual (maybe opening the door a little more than usual)
Then I had to stop, and go pick up a kid from soccer, and hook it back up
then I let it run all night, for a total of about 17 hours.
I still had 61 GID.
I have been told that at 12 GID The Leaf will Freak Out, shut down, go dark, and call it's momma.
So I used 15GID as Rock bottom last gasp gave it it's all, which works out, using the actual load as configured, of a run time of about 21 hours continuous.
Not good data, I'm sorry
The nice thing is this includes the Leaf's Idle load, the DC to DC converter's loss and the Inverters internal loss.
So, It's quick and dirty. Works well.
If I for some reason had to sustain it for a while, we have 1 DCQC unit 12 miles away, on the other side of the Delaware river in another State, so hopefully it wouldn't be down for the same reason as My power, and I could pop over there every 12 or so hours and recharge quickly.
Hope you like it.
If you get a second, check this out....
http://www.wusa9.com/Sandy/article/2276 ... wer-Outage
" onclick="window.open(this.href);return false;
Specs:
The inverter is a Xantrex PROWatt SW True Sine Wave Inverter model SW1000.
The breaker trips at 150 amps.
The Connectors are 175 Amp Anderson SB175-02-YEL (I wanted to go with Blue, to match the leaf, but the colors indicate voltage, will not work cross color, and yellow is the proper one for 12VDC, and I knew somebody out there would call me on it)
It's run on all true copper 2 gauge wire.
The ground is run to a CAST copper fitting, attached to the "spare" ground hole in the inverter housing with a 5/16" SS Nut/ Bolt/ Washer, with a "Holesaw Made" 3/4" X 1/8" lead crush washer and covered (tastefully) in electrical anti-corrosion goo.
(Never Never attach a ground to the Leaf's negative battery terminal. Phil's Law!)
The "exposed" positive terminals on the Breaker were covered with 3 coats of black "PlastiDip" to insulate them from any little tool-touchy Boo-Boo's in the future.
The Bracket is made from Scrap 3/16 6061 T6 aluminum plate from the "Adding a Brusa charger under the hood for '11/'12s" project, stuck together as practice in welding aluminum.
There is a piece of T6 1" angle in there as a battery hold down, and a spacer to clear the "stuff" sticking up from the top of the Battery.
All the screws are SS M6/1.0 and tapped into the Bracket.
It uses the original battery hold down hardware, just with a "new" top bracket.
(and you have to guess where the Genuine Blue Nissan Leaf emblem came from)